Contact Us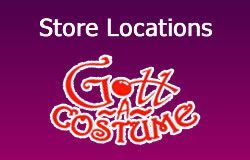 Gott-A-Costume will opened our seasonal Halloween stores September October in a variety of places so that people in Colorado can enjoy shopping locally at their convenience without traveling too far. Shopping with us helps build Colorado and the money stays within the local community and is spent here. Gott-A-Costume is constantly donating, sponsoring, and helping non-profit organizations. We work with the schools and community centers to help keep cost low and provide service for their events, parties, and theatrical shows.
The seasonal stores come and go but our year round store on Hampden and Chambers stays put and continues to support our community through out the year.
Thank You for shopping at Gott-A-Costume
---
Hampden Superstore & Rentals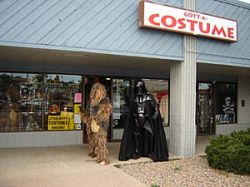 15167 E. Hampden Ave.
Aurora, CO 80014
(303) 690 0662
This is our anchor store and we are open year round at this location. So be sure to stop by anytime of the year for that special costume for your special occasion. We can help you get in character for school functions, church plays, theme parties, you name it. We have all the accessories to bring home your character. Stop on by, you won't be disappointed.
North West Corner of Hampden and Chamberts behind Winchells Donuts. Celebrating our 10th Annual Discounted Store with lots of savings.
---
Contact Us Form